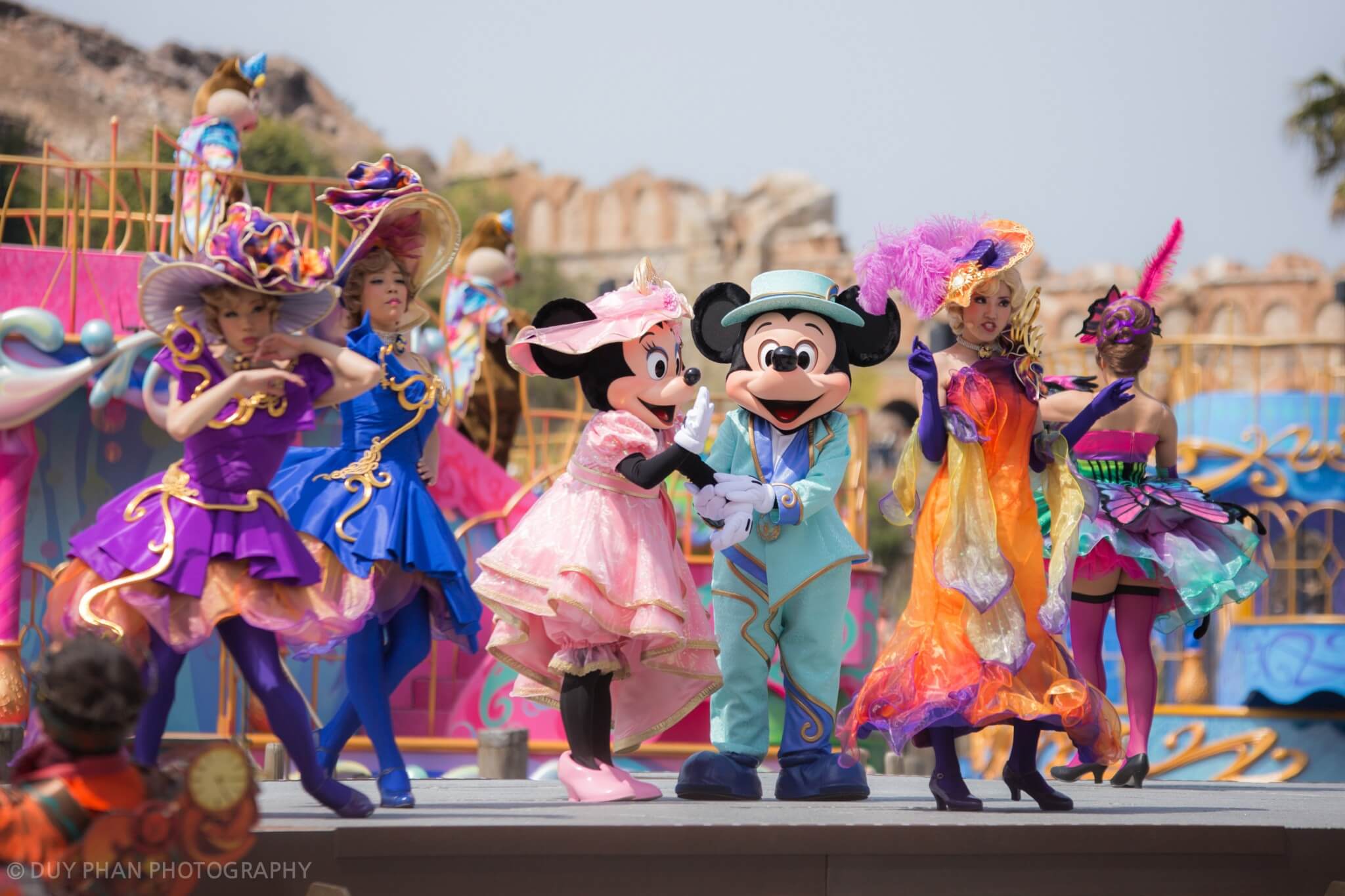 During my visit to Japan I took the opportunity to experience two major theme parks: Universal Studios in Osaka and Disney SEA in Tokyo. As you can imagine expectations were high since I have visited both premium brands in other countries. Really excited to visit these parks! Not only from a professional point of view also as a theme park fan.
Both parks impressed me on theming, entertainment and cleanliness. Howeverthere is a major gap between the two parks when reviewing staff. The one thing which can make you or break you! You can have everything right, but when your team is doing it wrong. You end up miles behind. It is like a playing a saxophone, great instrument and the sound it produces is amazing but… if you do not know how to use it people will start running away!
Universal Studios: experience, experience, experience

First impression: what a great staff at admissions and at our first stop Beverly Hills Boulangerie. All well organised, clean and interested hosts (Where are you from? Is this the first time here? What else are you visiting in Japan? Have fun and enjoy your day!) Great to see this happen as this is the basic. With a big smile I left the cafe heading to one of the first rides (Space Fantasy). Staff here were super friendly & smiling to all guests. Safety rules were widely communicated in Japanese and English. At bigger rides on screens and on 'boarding passes' which were handed over to guests at the start of the queue and collected before boarding the train. Good tool to ensure all safety messages are communicated to all guests. Obviously only working when there is a queue line. Took some interesting hand signals back to Legoland Malaysia which might work for our mainland Chinese guests.
I visited the park on a peakday so there must have been 20.000 guests in park creating queuelines of 45-120 minutes. Pretty normal I would say. I bought a fast pass for certain attractions which helped me enjoying all rides and leave the park at 21:30. The big plus in Universal Studios Japan is the single rider lane: reduces queue time at least 50% giving you extra time to spend in the shops or enjoy another ride which will increase experience and therefore satisfaction. No major comments on retail other than I liked the Harry Potter wand experience (Wand Magic) which basically is a sales pitch. After the experience of 10 minutes you end up in the Ollivander shop.
Another thing is displaying items in acrylic boxes showing what is in the wrapping (principle used in Japan especially at restaurants) in order to exactly know what you are buying. I did spend 25.620 yen (USD251) in total and 4.820 yen (USD47) on commercial (2 guests) and did not bought any photos or souvenirs adding an extra 4428 yen (USD43) for dinner at one of the City Walk restaurants F&B RPC USD50. It was a hot day and 90% I spent on beverages. Looking around so did anyone else. Great day, great experience, definitely worth a revisit when visiting Legoland Japan next year.
Disney SEA Tokyo: Superb theming but am I in a local park?
First impression: can you speak English please? At the admission counter the lady was far from having fun…. Not smiling and only speaking in Japanese. When asking the question if there are fast passes on sale she referred to the map (basically pointing at the map not explaining)… Not really what I am used from the world leading brand. Luckily the friendly host at Guest Service was able to help in English.
Second impression: busy literally queues everywhere. And everything is Japanese…. despite I don't have a Japanese look and speak English all hosts were speaking Japanese to me which decreases the experience for me. Even ride safety messages where in Japanese and short in English, have not seen a lot of signage. I would say for a foreign guests safety communication is balancing on the edge.
Let's go back to the queues. It is a big park, great theming and loads of space… Space which can be used for F&B. Which is needed since even at a beverage station a queue of 20 buyers was a comon practice. They were spending time waiting to purchase a bottle of water. Time they should use to stand in line for a ride? Have I told you that across the cities in Japan there are vending machines at every corner? Why not in Disney? Why not in the queuelines? You can easily theme it! The longer guests standing in line the worse the experience, good to have mobile phones! Why isn't there a queueline game app? With fast pass option? Well think my point is clear: room for increasing spends and experience.
Retail: plastic is fantastic
Just like the rest of the park the shops are greatly themed, like expected. I was really disappointed with Product presentation and Packaging. I have never seen so many plastic in a Disney Store and I really do not get who approved the packaging. As theme park retail professional my hands were itching since there is so much to do which will increase profitability and experience. Can imagine they have spent millions in theming the shops and by using the current packaging they wasted valuable money, decrease shopping experience and premium products now look like products you can find in an outlet store or Daiso! Hear you thinking: what if they hit budget? My answer would be: budget is too low! Raise the bar, please?
F&B: queue queue queue
Think it is clear when we are looking at my spending! Temperature was similar to Universal Studios but it was so hard to find a restaurant or mobile station. And when I found an F&B outlet it was crowded. Felt very thirsty that day. Some impressions of long queues below…
Photography: big business opportunity
Disney SEA is probably the best themed park I have ever visited. Not a lot of Disney elements but very detailed and great maintained. You can easily spend a whole day making pictures of all the areas and guess what… You can make a big business out of this. But Disney SEA is not taking this opportunity. On purpose I hear you saying? Will it affect guest experience to take photos and sell them? Depends on the procedure but really a missed chance!
Disney SEA is the saxophone, they can play great music (and believe me their entertainment is a number 1 hit) however they really need to train staff on English and get some retail professionals in.
Why is Universal Studios able to have enthusiastic English speaking staff and Disney is dealing with non English speakers?