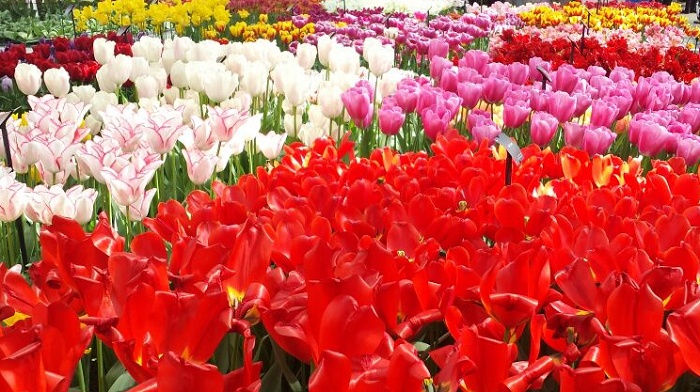 One of the great benefits working for Madame Tussauds in Amsterdam were the free tickets to other attractions in The Netherlands. There is a special membership pass which allows employees from one attraction to visit the other attraction or theme park.
On a Saturday morning we decided to go to one of the most popular attraction near Amsterdam: De Keukenhof. A seasonal outdoor attraction with over 7 million flowers and bulbs. If you want you can spend the complete day walking around the tulip fields. De Keukenhof is extremely popular with tourists from Asia so expect dozens of touring cars filled with Asian tourist on a single day.
Anyway, after parking the car we headed to the main entrance. Usually with the membership pass you need to collect the tickets at the Guest Service desk before you can enter the attraction. I entered the Guest Service office and saw 2 employees talking to each other. I wanted to wait until they were finished but suddenly there was an ice cold silence. I looked up and saw 4 annoyed eyes staring at me with the look: "what are you doing here…? You are disturbing our conversation!" Without saying a word. I said Hello and asked where I could collect the tickets. The reaction did not surprised me. "You need to buy tickets at the entrance!" I mentioned the membership card and the response was far from friendly pointing to the entrance and telling me that I could walk through.
With my family I queued to scan my tickets (which I did not had, so I was really wondering what the host would scan). As expected the host mentioned that he needed tickets and wanted to direct me back to the Guest Service. I asked for the manager to help me as I did not want to go back to that uncomfortable place. Whilst waiting for the manager we saw a kid entering on a small step. Suddenly out of nowhere I heard a shrill voice screaming: "WHO let the kid with the bike entering the attraction!" It was clear: the manager arrived the entrance gate and was first yelling to the hosts at the gate before turning around towards myself. And said: "You were waiting for me? Give me the ticket and follow me as I have never seen these passes in my entire career here. And this is my 15th season." Whilst talking she commanded me (not kidding I felt like I became one of her soldiers) to follow her to…. GUEST SERVICE. I needed to wait and a few minutes later she walked to the ticket office. While I was standing next to her she commanded her staff member to print 4 entrance tickets but also mentioned to the host that apparently the pass I gave her was for De Keukenhof. I received the tickets and she pointed to the entrance. And that was the goodbye. No word, no single word! The host scanning our tickets did apologize for the inconvenience and he wished us a nice day. Scoring some points for the company but still in negative when I calculate the points I have missed. If a manager is not leading the team by good example how can the team deliver the guest experience a guest expects? Remember: Happy people SELL and BUY!
Focus
Now talking about selling. Off course I have checked the commercial areas which are operated by different third parties. What should make it easier to deliver outstanding guest experience and go the extra mile within the areas you operate yourselves? Should you have more focus on operations? In your agreement with the third party you set targets on guest experience and there you go: first step done. Should that not be the reason to outsource Retail? So you can focus on your core business and the third party focusses on their core business? Looking at de Keukenhof, F&B was fine however I think they could have increase the number of F&B outlets including seating area making guests stay longer due convenience and spend more. Like the parks I have visited in Asia there is a huge opportunity for photography here! Did I already mention the huge number of Asian guests? 100% sure we can increase capture rate and average transaction rate. With a result of an increase in spend! There is huge potential to grow photo business, so if any business development manager is reading this post. Take your chances, go for it! Happy to help you.
Regarding merchandising: not really impressed by the theming of the shops, think they missed the boat here! Imagine a colorful park, flowers everywhere what should create a kind of a happy vibe.
Then walk into a shop and…. It is white, nothing appealing, product placement is at street market level and if you decide to buy a souvenir (which you will because there were some good products out there): you will wait for ages in the queue at till point. Busy? No, due slow cash handling. Because of customer interaction? No, due either a slow system or slow staff and not open up an additional cash desk. Though I can imagine this attraction is making money due sales of flora however I am sure profit can be easily increased: staff and experience are key. Maybe something to pick up next year?
What can we learn from this example?
Never ever EVER yell at your staff, never ever EVER correct them in front of guests. Give staff feedback on things they can improve and show them what hospitality means!
Train your team well before opening of the season. Make sure the correct information is given to guests.
Always greet your guests with a smile and eye contact! The first, second and third impression of this tourist attraction were below my guest experience standards. And then there was the manager not really ticking the boxes of what customer service stands for.
Always wish your guests a pleasant stay or journey home, it's normal isn't it?
Guest experience does not stop when entering a commercial area, in fact you should increase the level of experience over here to trigger your guest to take the experience home: in the way of a souvenir.
Do you want to join a queue with your impulse product in your hand or do you think: Well let's buy it at the end of the day. Now I want to enjoy the park… and at the end of the day…. You think of that product when you are in the car… I guess…… without the souvenir!
Your service standards will influence your profit! The next post will focus on this topic so stay tuned!