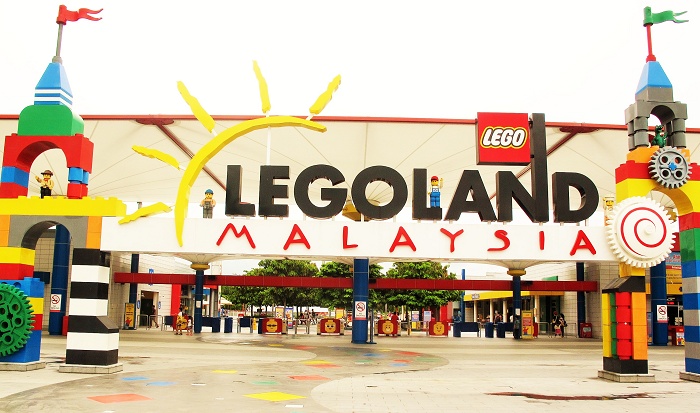 It was obvious that I needed to pay a visit to one of the attractions of Merlin Entertainments, so why not go for a concept I really enjoy? And since Legoland Malaysia was on route to Singapore and I worked with the Director of Operations in Europe it was an easy pick!
 Johor what?
You would expect this park to be located near Kuala Lumpur but actually it is located in Johor Bahru. 15 minutes away from the leisure capital of South East Asia: Singapore. What makes me wonder what the growth potential is of this park knowing that a complete world of entertainment is at your doorstep? However the region is strongly investing to be on top of the game and compete with Singapore when it comes down to tourism. Actually a lot of residents work in Singapore and live in Johor Bahru what results in more money to spend so why not go for a Legoland Annual Pass! And to be honest I would rather go to Legoland Malaysia than Universal Studios Singapore with my kids (what is in my opinion not a complete park compared to Universal Studios in California and Florida!). But as a tourist it is more likely you go for Singapore than the unknown region of Johor Bahru.
What was good to see when in Kuala Lumpur is the direct bus line to Legoland and the information Malaysia is working on a fast train to Singapore, via Johor Bahru what potentially increases tourism around Legoland Malaysia. And to be fair: Malaysia wants tourist spending in Malaysia and not in Singapore right, so major opportunities for Johor Bahru.
Park Operations
Everytime I visit a Lego themed attraction it puts a smile on my face: colors, music and for sure LEGO! In Europe I have visited Windsor and Billund besides my 'own' indoor attractions: Legoland Discovery Centers in Oberhausen and Berlin where guests can enjoy the experience of Lego for a couple of hours.
Although Legoland Malaysia is a family park and personally I am more a thrill seeker I did spend a full day in the park and really enjoyed it. In the morning I was welcomed by the Director of Operations and had a short chat about some challenges this park has compared to the ones in Europe:
The majority of the visitors prefer air-conditioned areas whereas the park is 80% outdoors, good to know that the park will invest in indoor experiences onwards.
Speaking of cultural differences: most staff members are Muslim what means the park should provide praying time and rooms, which is normal in Malaysia. But has a major impact on staff planning (Friday is praying day so most staff members need the day off). And what do you think of the Ramadan month? Staff will fasten during the day whilst working in the heat, what will affect the energy level of staff and could affect the guest experience (despite the fact that during Ramadan the park is less busy). But most important safety could become an issue (for both staff and guest) when you don't pay extra attention to your staff members during this period. An interesting fact which you will not face in Western Europe on this scale.
To clean to be true… but actually it is!
One thing that surprised me was the cleanliness of the park. I have never seen a full operating park being this clean from opening till the end of the day. I think our European parks can really learn from Legoland Malaysia on this one.
Smile! You are really in the land of LEGO!
Theming of the park I would say is great caused by the cleanliness, well maintained gardens and well themed rides. However there were 2 areas under construction which had the right signage saying: 'We are building a new experience and sorry for our mess!' however the surrounded fences did not match the area. But still a well maintained and themed park for sure! Although some F&B outlets really need some extra thoughts whether they are in line with brand.
Staff: a gap to close
In Legoland overall staff was friendly and helpful however the operations team did go the extra mile by entertaining guests when queuing what made me smile and a lot other guests as well. On the other hand the commercial team really needs to buddy up with operations to experience how fun it is to let guests smile. So on this point Legoland has missed the boat, more on this in the commercial review.
I wanted to write that I have never seen a gap in the level of guest experience within one attraction caused by departments but actually after my visit to Legoland I headed to Singapore and experienced the most extreme example of how you should not treat guests when they experience excitement but also being nervous: Sentosa Island. More on this in the review of Singapore!
Commercial Operations
Counting 6 shops, 6 restaurants plus a number of mobile carts, several midway games and a few photo points the commercial operations department is not that big. However what makes it more complex in merchandising are the strict brand guidelines and ordering process controlled by Lego. But once you are used to the cycle and process it becomes easier.  With strict brand rules in mind I just want to kick off saying that I do not understand why a product like dried mango and tiger balm is for sale in a Lego shop, in a prominent place meaning using space which you should use for premium products with a premium price.
What I like about Legoland is the fact that basically the park is one big toy store with attractions so it should be very simple to trigger guests to purchase premium priced products. The rides will function as a platform to drive commercial and throughout the day guests will be LEGO minded. Just like Disney :-)The only thing that has to be done is giving guests the tools and attention to purchase that premium product from you and increase the average transaction value by upsell at till point (so no dried mango on sale in my Lego shop).
Shops 
 So Legoland is a concept and so are the stores, consider this as a retail formula where fixtures and theming is developed for LEGO products. Like in Happy Valley Beijing poncho sales was extreme during the rain! What was good to see in this park is product zoning by range although I think fine tuning of product displaying will be essential to increase spends in Merchandising as well as routing and the use of hotspots. My advice would be to run a space planning report by the buying manager. Based on the experience in Europe it might be that Malaysia leaves money in the pockets. However a different region could mean a different spend behavior, but worth trying! The pricing strategy seems a bit weird to me but maybe this is actually working in Malaysia, who knows? (did not see this strategy in shopping malls but ok) Unfortunately I did not had the chance to meet the Director of Commercial Operations to talk about differences in spend behavior. What would be very interesting the next time.
My biggest win would be staff. Training on shopping experience and commercial operations. As mentioned there is a sufficient gap between Park Operations and Commercial Operations which surprised me since smiling, eye contact and a welcome will drive spends. There was only 1 shop where I was welcomed and that was at the start of the day. Overall it seemed staff was busier with their tasks and each other (replenishment and cash handling, but most of all talking to each other) than delivering the basic guest experience. No upsell at till point at none of the shops. A lot work to do however all quick wins with short and medium term effects.
Games
I have seen midway games before which were not crowded like the ones in Legoland Malaysia but at least staff was trying to attract guests by approaching them actively (like Happy Valley Beijing). But over here staff was bored, not smiling, standing still and really they had no fun.
Knowing that midway games are operated by a third party, HB Leisure which in Europe is doing a good job, it frustrates me even more to see their team in Malaysia struggling and believe me when I say: this department had the biggest impact on 'the gap to close'.
F&B
First of all food is great! No comments other than: You F&B managers go to Legoland Malaysia and learn how food in a Theme Park should taste like. Another thing what was great to see is the Lego figure right outside the entrance Café telling guest to come in and by bread, ice cream and a lot more other things. Good example of how you can use your core business to drive commercial!
[kad_youtube url="https://youtu.be/8h26i06TP34″ width=420 height=315 ]
When focusing on commercial operations same points occur as within Shops: no upsell (despite some good value for money promotions, staff is not referring to it) and busy with each other (I even saw staff eating food, which was for sale, behind the food counter whilst having a social meeting in front of guests). That last thing really frustrates me as a commercial driven professional: staff gets paid to eat your margin whilst scaring guests and push them towards the exit…
The Legoland Hotel restaurant will deliver you a great Lego experience how it should be however when you than stand in front of Asian Deli you will think you ended up at a food court not knowing at which sign you need to look at. 
 
Obviously the Legoland Hotel is fairly new so you can see the park is investing even more in the right experience. But still: you can built an experience but if staff is not in line with this experience it will be a waste of money. So go for staff training and focus on on-the-job coaching. It should be us Commercial professionals who learn Park Operations how to deliver experience not the other way around!
Photography
There are not a lot of photo points in the park at this moment but I think within time a couple of points will be added since there are some great opportunities. Like every other park I have visited in Asia, mobile photography is implemented and could drive a lot of revenue with the right approach. Photography (like shopping) is based on emotion and a photo will be sold when you can feel the emotion jumping out of the picture. Enthusiastic and passionate photographers and sales hosts are needed to create the right experience (and off course the right photo set!). The reason why you make a photo is to actually sell the photo so why do we still lend ourselves to make a photo of the guests with their camera(s). What is the point of having you paid? Happened over here in Malaysia. And will it be fun when I just say: stand still. And hand over the camera (without me noticing you already made the photo). Happened here in Malaysia.
 
And what will deliver more revenue: you waiting to take photos or you approaching guests and saying it is time to capture the amazing moment? The good thing with ride photography was the signage in the queue referring to the photo moment. And the staff member over here really tried to capture all the guests. What made me think: they know how to sell why don't they do this in all commercial areas?
So overall it was good visit and I really enjoyed it and if actuals in commercial are in line with budget I would really increase the budget for next year, invest in staff training and commercial operations as the return on investment will be massive. Just raising the bar! Go for it!