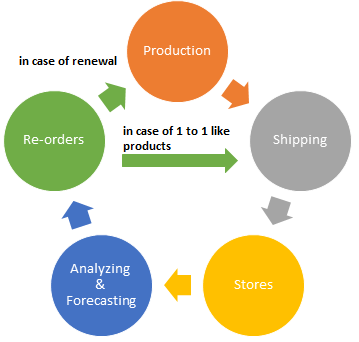 The stock management cycle is a common used term during my training on Stock Management. I used this to explain the process of product development to show the importance of forecasting and communication with a buying department.
Production:
Whether it is a new product or an old time best seller. You need to plan time for production (local or overseas). In general this will take up to a couple of months depending on your product approval in case of a new product. Normally for reorders it will take 2 weeks (except during Chinese New Year!).
Shipping:
Most time consuming is shipping! Most valuable is air freight and cheapest is obvious by ship. However by ship it can take up to 4 months depending on customs.
Stores:
Now you have waited for your products from the Far East (average of 4 months for the cheapest option). It is time to give it the right spot in your shop and sell it for the next 4 weeks. Make sure your team knows about the new arrival and give it the right attention.
Analyzing & Forecasting + Re-order:
Time to check the performance of your new products by analyzing the sales verses visitors of 4 full weeks. A simple formula: you have sold 200 products during 4 weeks targeting 10.000 visitors in the attraction meaning you sell 1 product to every 50 visitors. You know the lead time is 4 months. In 4 months' time you will have 300.000 visitors results in a quantity of 6.000 products to cover the 4 months lead time + the products you use for presentation and 2-3 weeks just in case.
Time to re-order! And the process starts over again. But remember once a product is a best seller it doesn't guarantee that it will be a best seller the next season so analyze and calculate carefully. Before you know it you will end up with historical best sellers in your stock room.
How do you plan your stock?