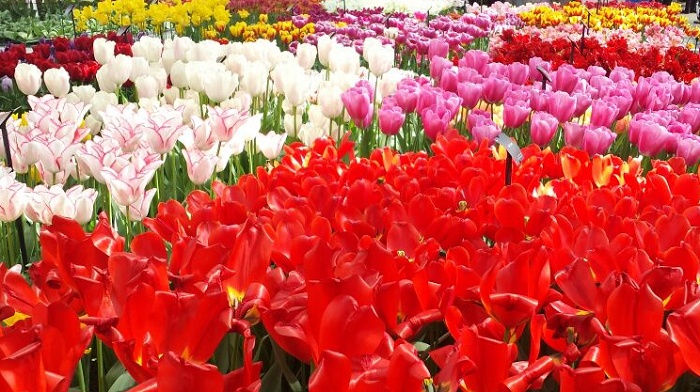 One of the great benefits working for Madame Tussauds in Amsterdam were the free tickets to other attractions in The Netherlands. There is a special membership pass which allows employees from one attraction to visit the other attraction or theme park.
On a Saturday morning we decided to go to one of the most popular attraction near Amsterdam: De Keukenhof. A seasonal outdoor attraction with over 7 million flowers and bulbs. If you want you can spend the complete day walking around the tulip fields. De Keukenhof is extremely popular with tourists from Asia so expect dozens of touring cars filled with Asian tourist on a single day.
Anyway, after parking the car we headed to the main entrance. Usually with the membership pass you need to collect the tickets at the Guest Service desk before you can enter the attraction. I entered the Guest Service office and saw 2 employees talking to each other. I wanted to wait until they were finished but suddenly there was an ice cold silence. I looked up and saw 4 annoyed eyes staring at me with the look: "what are you doing here…? You are disturbing our conversation!" Without saying a word. I said Hello and asked where I could collect the tickets. The reaction did not surprised me. "You need to buy tickets at the entrance!" I mentioned the membership card and the response was far from friendly pointing to the entrance and telling me that I could walk through. Continue reading De Keukenhof: a colorful experience with a lot of potential!